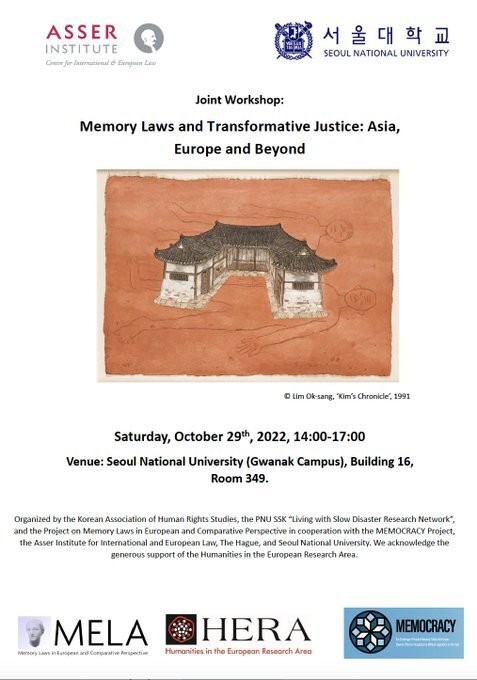 MEMOCRACY Project Members Discussed Memory Laws at International Workshop at Seoul National University
The workshop on 'Memory Laws and Transformative Justice: Asia, Europe and Beyond' held on October 29th 2022, at the Seoul National University gathered scholars and legal practitioners working on memory laws in East Asia, South America and Europe. The unique event was organized jointly by Seoul National University, the Korean Association of Human Rights Studies, the Busan National University SSK Living with Slow Disaster Research Network, MELA (Memory Laws in European and Comparative Perspective) project, and the MEMOCRACY project. In light of several recent factors, including: the current rise of memory laws; the adoption of new transitional justice mechanisms in South Korea; and ongoing lively inter-state debates on historical memory in East Asia, the presentation of the Model Declaration's normative principles during the international workshop in Seoul was of particular significance and topical relevance.
Prof. Buhm-Suk Baek (Kyung-Hee University), Prof. Yunjeong Joo (Pusan University), Prof. Jiewuh Song (Seoul National University) and Jung Hyuk (Truth and Reconciliation Commission) presented Korean perspectives on memory laws and other instruments of historical memory governance. Prof. Junko Kotani (Shizuoka University) analysed the specificities of Japanese constitutionalism through the looking glass of imperial eras in Japan. Dr. Uladzislau Belavusau (MEMOCRACY Principal Investigator, senior researcher at T.M.C. Asser Institute) presented about French and Dutch cases of reckoning with the colonial past through the use of legal mechanisms. Dr. Anna Wójcik (MEMOCRACY post-doctoral researcher, Polish Academy of Sciences) discussed populist memory governance during democratic backsliding in Central and Eastern Europe. Dr. León Castellanos-Jankielewicz (T.M.C. Asser Institute) discussed the rise of amnesties in South America.
This exchange of knowledge and experience helped to reveal common patterns in debates around memory laws. Moreover, the workshop has demonstrated the pertinence of comparative research and continuing cooperation between scholars working on East Asian, European and Latin American memory laws and policies.