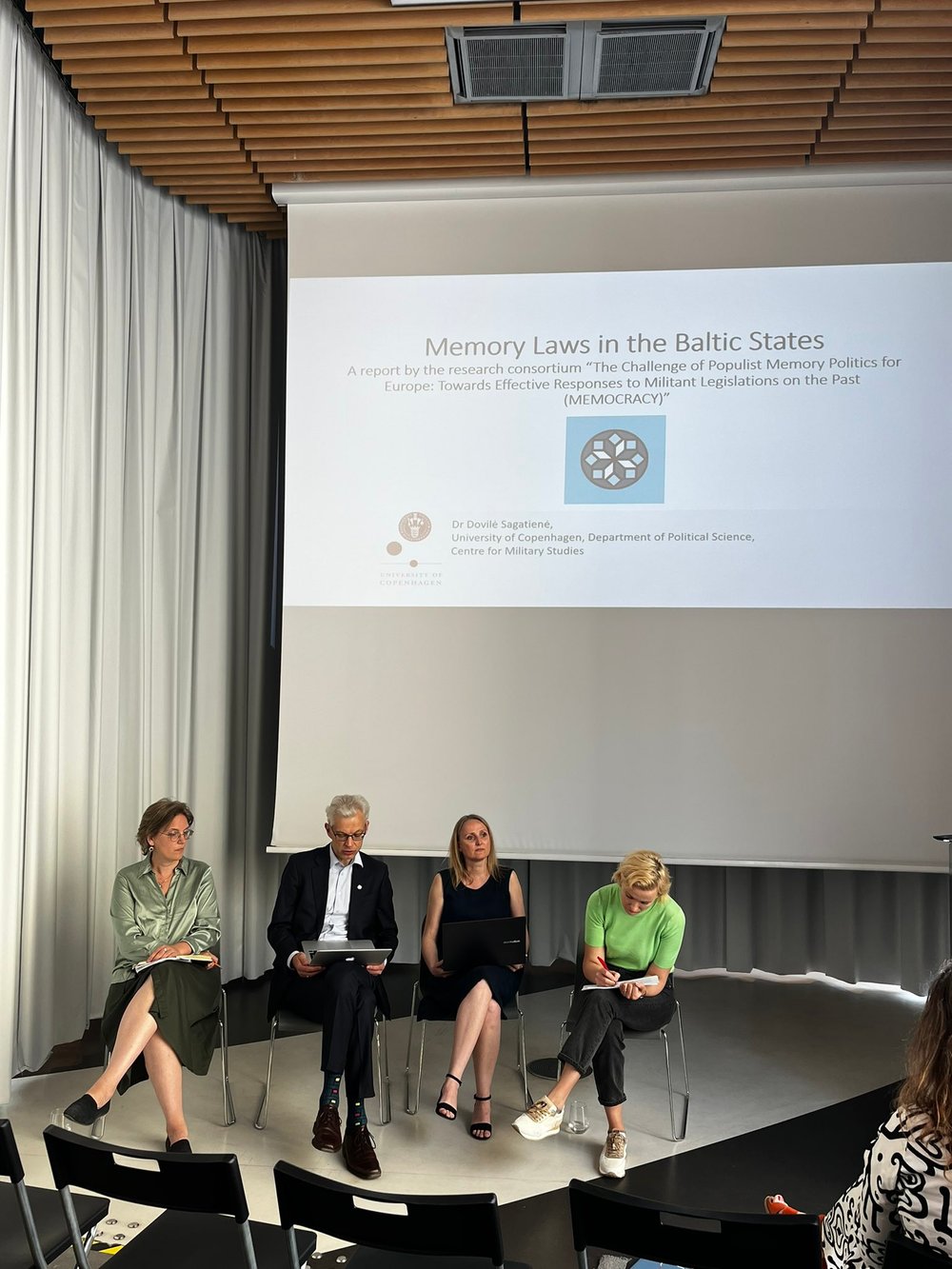 Workshop: discussing the draft report on memory laws in the Baltic States
The MEMOCRACY Tallinn Seminar took place at the Vabamu Museum of Occupations and Freedom in Tallinn, Estonia on June 16, 2023.
Dr Maria Mälksoo, MEMOCRACY Principal Investigator (University of Copenhagen, Denmark) opened the seminar.
In the first part of the event, MEMOCRACY Principal Investigators, early career researchers and invited guests discussed a draft report on memory laws in three Batic states, Lithuania, Latvia and Estonia, prepared by the MEMOCRACY team at University of Copenhagen.
Dr Dovilė Sagatienė presented the draft report.
Prof. Justinas Žilinskas (Mykolas Romeris University, Institute of International and EU Law, Vilnius), Dr Elīna Grigore-Bāra (University of Latvia, Faculty of Law) and Dr Eva-Clarita Pettai (Imre Kertész Kolleg Jena) provided their insightful comments.
An interdisciplinary debate between the panellists, the MEMOCRACY team members and the audience followed
MEMOCRACY Tallinn Seminar concluded with a roundtable on the theme 'How to defend memory?' with arepresentative roundup of Estonian experts: Dr Mari-Liis Madisson (University of Tartu), Andres Parmas (Estonian Prosecutor General), Toomas Hiio (Estonian Institute of Historical Memory) and Prof. Vello Pettai (ECMI).
The MEMOCRACY Tallinn Seminar took place on the heels of June 14, the day of commemorating the June 1941 deportations by the Soviet Union in the Baltic states. The project team learned further about this tragic chapter in the Baltic history from touring the permanent exhibition of the Vabamu Museum.